Nowadays, almost all business fields (eg. cosmetics, financial, banking, etc.) are or have been stepping up their marketing games. They no longer try to force their brand image into a mold, instead, they go bold and build a more dynamic image appeal to attract groups of young audiences who love creativity. And when it comes to young audiences, we've learned a thing or two about how to apply AR filters efficiently when organizing a marketing campaign. There are two things you can do:
1. Make an online contest on social networks.
2. Build hype around interesting interactive activities.
I. Online contests on social networks with AR Filter (Online Competition)
In online contests on social media, AR filters usually serve the purpose of increasing interaction, and brand awareness, collecting data from potential customers, or creating a viral effect using buzz marketing tactics. In this way, the brand can create activities that are both hyper and entertaining, and also help customers have the opportunity to win gifts from the brand when achieving high results. Bearing such advantages, "competitive" activities with scores are also applied to marketing campaigns to drive players to participate and compete with each other.
To launch AR filter marketing campaigns on social media, brands can post an AR filter link to a post, inviting customers to participate by following these steps:
1. Take photos/videos with AR Filters.
2. Like the Fanpage and share the brand's article on Facebook.
3. Post photos/videos on your personal feed with hashtags and invite your friends to like/comment the post.
4. Comment on the brand's post with an image/video and a random number.
5. Tag your friends and comment on brand posts with hashtags.
In addition, brands can implement a campaign using one of the aforementioned steps, or they can do all steps in one campaign.
Let's take a look into the details of activities a brand can implement to attract customers to be engaged in their marketing campaign.
1. Take photos/videos with AR Filters
Many brands in Vietnam and in East Asian countries such as Korea, Japan, and Taiwan have achieved great success for their marketing campaigns by having customers engaged with their AR filters.
In Korea, the Shake Shack fast food brand has used the Instagram filter to launch an in-store promotion campaign, an offline form of promotion. By urging users to use the brand's AR filter to redeem coupons or free meals, Shake Shack Korea has successfully attracted customers to the store and persuaded customers to make a purchase to be able to enjoy the product and use promotions.
Summary of Shake Shack's Instagram filter implementation:
– Calling customers to use AR filters on brand Instagram page.
– Ask customers to take photos or videos using filters and provide images to staff at the counter to receive a free meal when purchasing a meal on demand.
2. Share your thoughts on personal Facebook with the brand's AR filter
With the aim of spreading the sports spirit, the Milo cereal drink brand has deployed a mini game (competition) on the social networking platform Facebook combined with a Facebook filter in the framework of the campaign "Champion made from Milo". The AR filter is implemented with 3 UIs, which are the trio of values "Perseverance", "Determination", and "Confidence".
In particular, Milo also asked players to share their feelings about the values that a child can learn through sports. This is an interesting and human experience through which Milo can spread the sports spirit according to the campaign's goals, and at the same time give parents the opportunity to express their thoughts on the sport. Raising a child in an age where a passive lifestyle is a matter of concern as it brings many obstacles to physical development.
To complete the requirements from the mini game, parents also have to take a screenshot of their personal post and send it to Milo's fan page on Facebook via Messenger.
Summary of Milo's Facebook filter implementation:
– Ask customers to use AR filter to record video or take photos
– Customers share their thoughts on valuable lessons a child can learn through playing sports with hashtags and photos/videos on their personal page.
– Customers take screenshots of their articles and send them to Milo via Messenger.
3. Ask your friends to like/comment on photos taken with AR filters
In Taiwan, the food purchasing and delivery unit FoodPanda has also launched a marketing campaign combining AR filter on the Instagram platform. Similar to Shake Shack Korea, FoodPanda has also combined a digital marketing campaign with an Instagram filter and other offline activities, namely posters printed with QR codes pasted at 7-Eleven stores.
In addition, players need to take a video or take a photo with the filter and post it on their personal Instagram with the hashtag, tag a friend, and the caption "It's decided that it's you, friends" (Chinese). This is an implementation of AR filter that combines many requirements as mentioned by Octokit at the beginning of the article.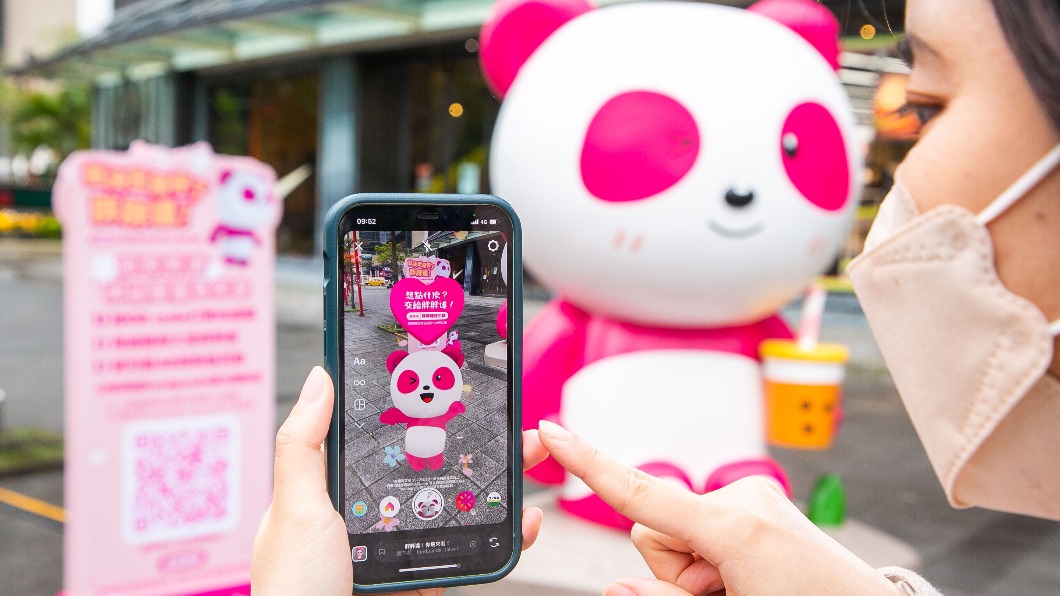 Summary of FoodPanda's Instagram filter implementation:
– Customers scan the QR code on the product poster/packaging to access the filter.
– Filter randomly shows a coupon.
– Players take screenshots or record videos with AR coupons.
– Upload photos/videos and tag 1 friend under the post and leave a message "It's decided that it's you, friends" (in Chinese).
– Rescan the QR code at Foodpanda's partner store to receive more special gifts.
4. Comment on the brand's post with an image/video with AR Filter and a random number
The world's leading toothpaste brand, Colgate, has joined the marketing race that combines AR technology with AR filter Smile Out Loud on the social networking platform Facebook. To attract more customers to participate in the campaign, as well as increase communication efficiency, Colgate also collaborated with supermodel Miss Minh Tu and fashionista Quynh Anh Shyn, and urged customers to use Facebook filters and comment on photos. capture/video using filters on branded posts.
With the slogan "Smile brightly" and the new idea of implementing the AR filter – Integrated video tutorial, Colgate has successfully brought its idea to more customers and attracted the participation of more customers. A series of famous models, beauty queens, and influencers in Vietnam such as runner-up Thao Nhi Le, YouTuber Trinh Pham, Chloe Nguyen, …
Summary of how to implement Facebook filter with Colgate's marketing campaign:
– Film or take pictures with AR filter.
– Post a photo/video you just took in the comment section of the post on Colgate's fan page, with a hashtag and a lucky number from 1 to 2000.
– Colgate will choose any number to give gifts to lucky customers.
Nam A Bank – Nam A Bank, has also applied the AR filter application marketing strategy on the social networking platform Facebook. With the idea of displaying the name of the "future lover" after touching virtual objects on the phone screen, Nam A Bank has combined AR hand tracking and face tracking technology with the effect of displaying random results. . Mini Game attracts the participation of hundreds of customers and Facebook users.
In addition, to increase the communication effect, Nam A Bank also cooperated with female singer Orange and rapper Karik in the campaign "Chạm tay biết gu ngay" promoting the OneBank digital banking ecosystem – One Touch Every Experience.
With the implementation of the mini-game to give attractive gifts and novel gameplay, the AR filter "Gu em is .." has attracted the participation of many familiar faces such as female singers Liz Kim Cuong, Nhung Gumiho, …
Summary of Nam A Bank's Facebook filter implementation:
– Players take video / take photos with AR filter.
– Post pictures/videos on your profile with hashtags.
– Leave any 3 numbers in the comment on the post of the business.
– Nam A Bank chooses any number and gives gifts to lucky players.
5. Tag your friends and comment on brand posts with hashtags
Hana Money, a financial application in Korea, has implemented an interesting mini game with Instagram filter within the framework of the Christmas marketing campaign 2021. By using images related to financial topics such as coins. With a youthful, lovely design, AR filter has successfully brought players a sense of closeness but still retains the brand image towards financial values.
Not only stimulating players with valuable gifts belonging to Apple, Dyson, … Hana Money also brings Instagram users interesting moments of entertainment when using AR face tracking technology to create gameplay that eats items. attractive, combining bright, lovely 2D elements, successfully attracting hundreds of customers of all ages to participate.
Besides, in order to be able to reach more potential customers and a lookalike audience, Hana Money also invites participants to share photos/videos using AR filter on their wallpaper. on Instagram, and tag your friends with the hashtag in the caption of the post.
Summary of Hana Money's Instagram filter implementation:
– Ask the player to use an AR filter and take a picture of the result (score) or record a video.
– Post the video/photo you just took on Instagram's personal page / Story 24h / Reel and tag the Brand's Instagram account, and tag @ a friend with the requested #hashtag from the brand.
– The brand chooses lucky players to give gifts.
II. Interactive Activities with AR Filter
In addition to contests for rankings and the number of reactions to posts and comments, brands also deploy other forms of marketing to increase interaction with customers on social networks. This is a form of marketing that calls for and encourages customers to use an interesting and engaging interactive AR filter, and often businesses will focus on the form of an AR filter rather than asking users to compete for prizes. reward.
1. Launching AR filter according to the trend at the moment
For example, Netflix Singapore recently launched the Instagram filter "Sweet Goodbye" when the last part of the "Money Heist" series ended in the sobbing of fans, creating a trend on Singapore's social network for a really long time.
2. Combined AR Filter with TVC and KOL
In the framework of the commercial promotion campaign for the biscuit product "Le Petit Paris", the famous confectionery brand in Korea – Nongshim, collaborated with the beautiful Gen 4 singer Somi and launched a series of products. TVC attractive advertising. Besides, to increase interaction with customers on social networks, the brand has also launched an AR filter on Instagram platform with interesting gameplay and luxurious 2D design but still retains its lovely features.
3. Collaborate AR Filter with TVC & Talkshow & artists
In Vietnam, one of the major holidays that marketers pay attention to is the Lunar New Year, also known as the traditional Tet. To deploy a perfect Tet campaign, many businesses have invested "huge expenses" and launched a series of interesting activities, increasing brand awareness and interacting with customers.
Within the framework of the marketing campaign for Tet 2020, soap brand Lifebuoy has cooperated with three comedians Hai Trieu, BB Tran, and Lam Vy Da to launch a TVC to advertise detox shower gel and talk show "Detox at the end of the year" on the background. Youtube platform.
In particular, Lifebuoy also launched a Facebook filter with an interesting idea and created a fever on the Facebook platform with the participation of a series of famous artists as well as Facebook users.