This article will focus on implementing mini-games in marketing campaigns and how to leverage the potential of gamification marketing to create engaging and unique experiences for both current and potential customers of the business.
I. Why should you use mini-games in marketing?
Increasing interaction and engagement on social media platforms
Today, with the explosive growth of user numbers and the expansive capabilities of social media platforms such as Twitter, Facebook, Instagram, Youtube, using them goes beyond mere communication. They have become vital tools in reaching and persuading customers.
But how can we maximize the influence of these platforms in offline events? Using mini-games in marketing strategies is the perfect solution!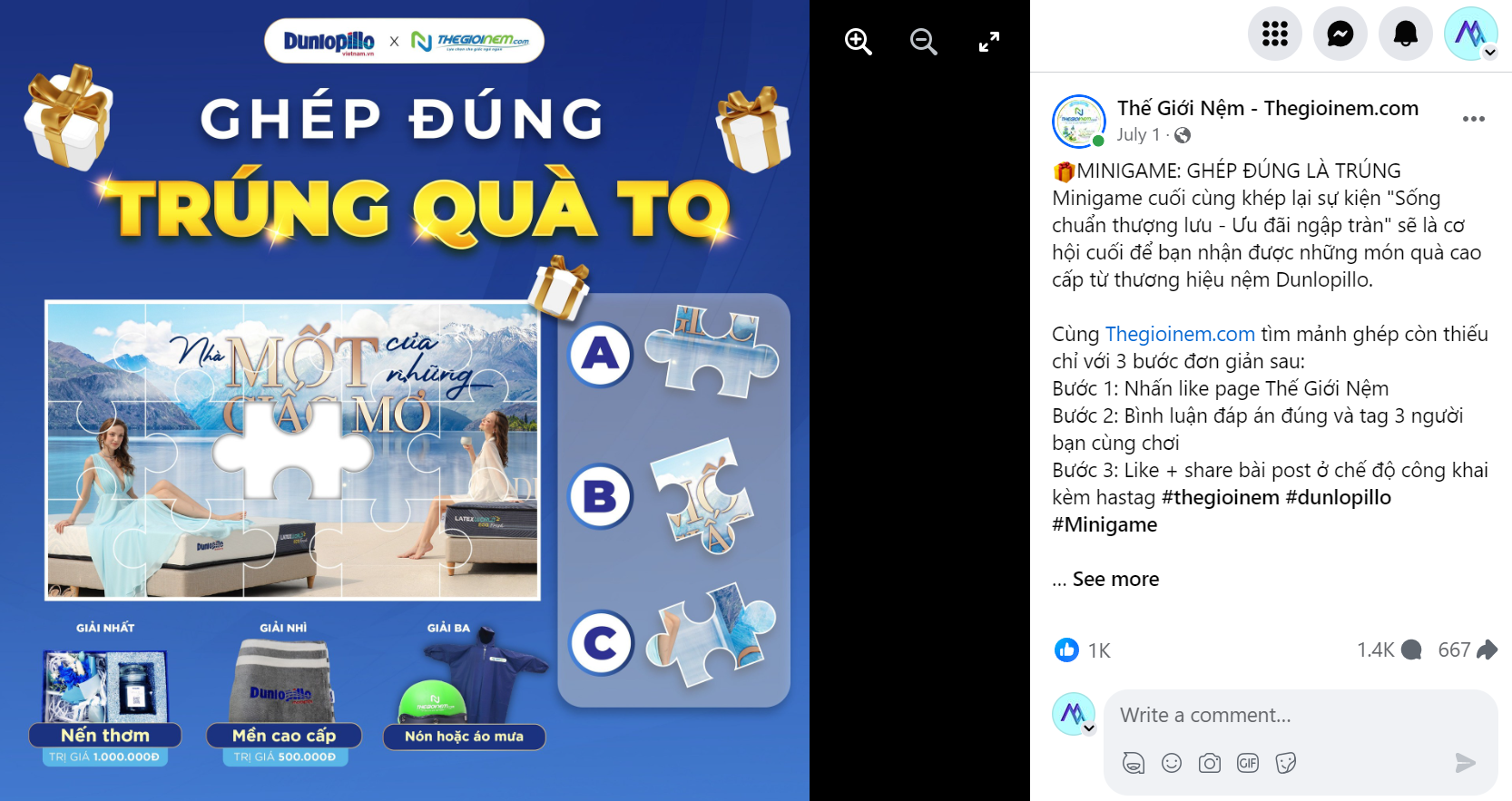 The Thegioinem company successfully utilized a puzzle mini-game in their Facebook post to boost interaction on their fan page.
The concept of mini-games on social media platforms can create an unlimited space for connection between businesses and customers. Mini-game activities on fan pages also aid in attracting new customers through sharing and interaction. This is not only an approach to boost brand recognition but also an effective sales tool that contributes to business revenue.
Creating a unique experience for consumers at offline events
Integrating mini-games into offline events can be surprisingly simple! Mini-games can be incorporated into kiosks, tablets, or mobile apps at the event for attendees to easily access and participate in.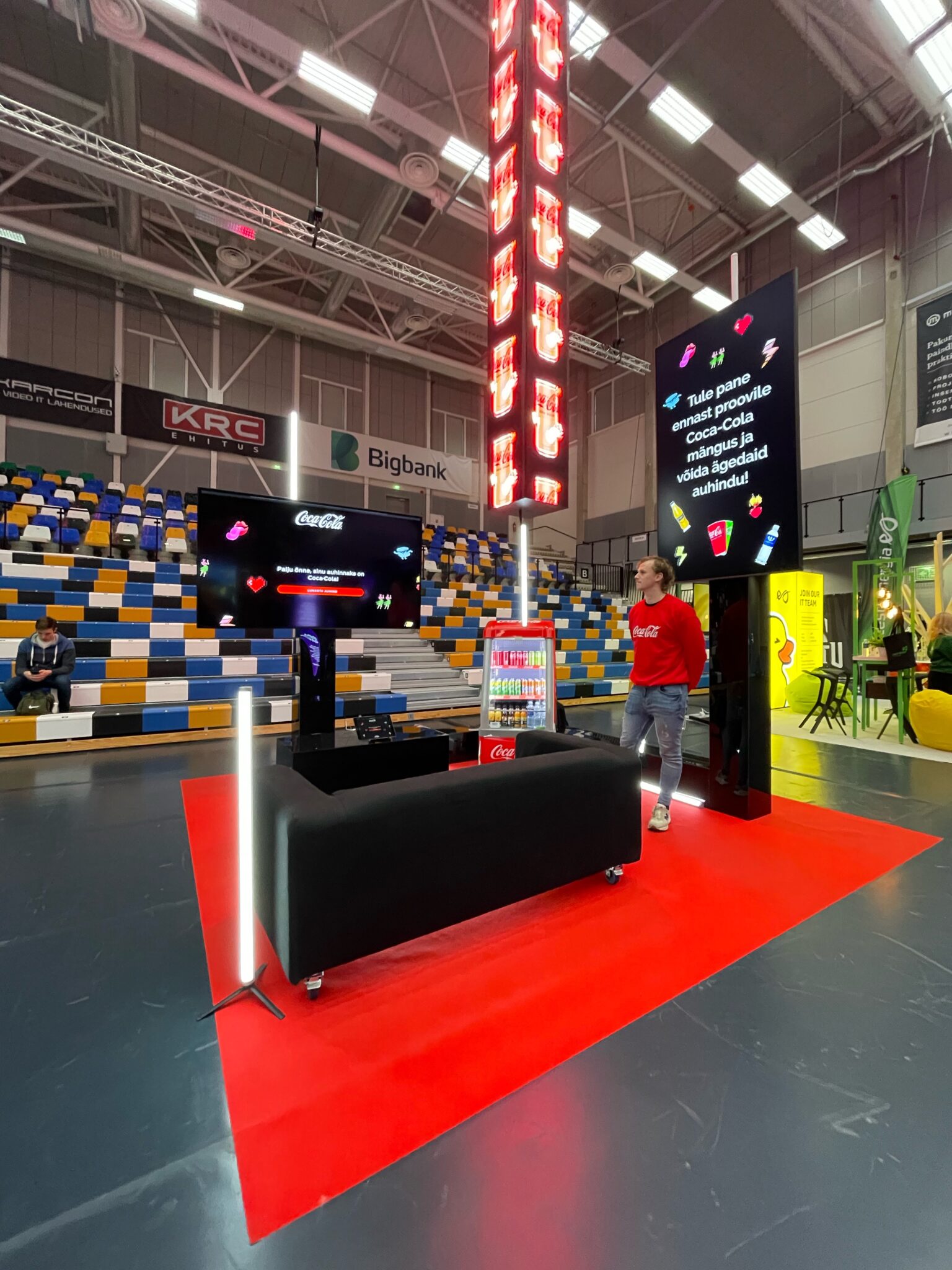 Coca-Cola applying a 2 in 1 mini-game into their booth at the event to attract attendees 
Applying mini-games to offline events not only captures the enthusiasm of attendees for promotions and event services but also allows a large number of consumers to participate and share, thereby promoting interaction, networking, and creating an engaging community for the brand at the event.
Gathering information and creating opportunities to reach target customers
Using mini-games in marketing campaigns not only provides entertainment but also opens up excellent opportunities to gather information from target customers. Through gamification marketing, businesses can gain valuable insights into the interests, interactions, and preferences of their audience.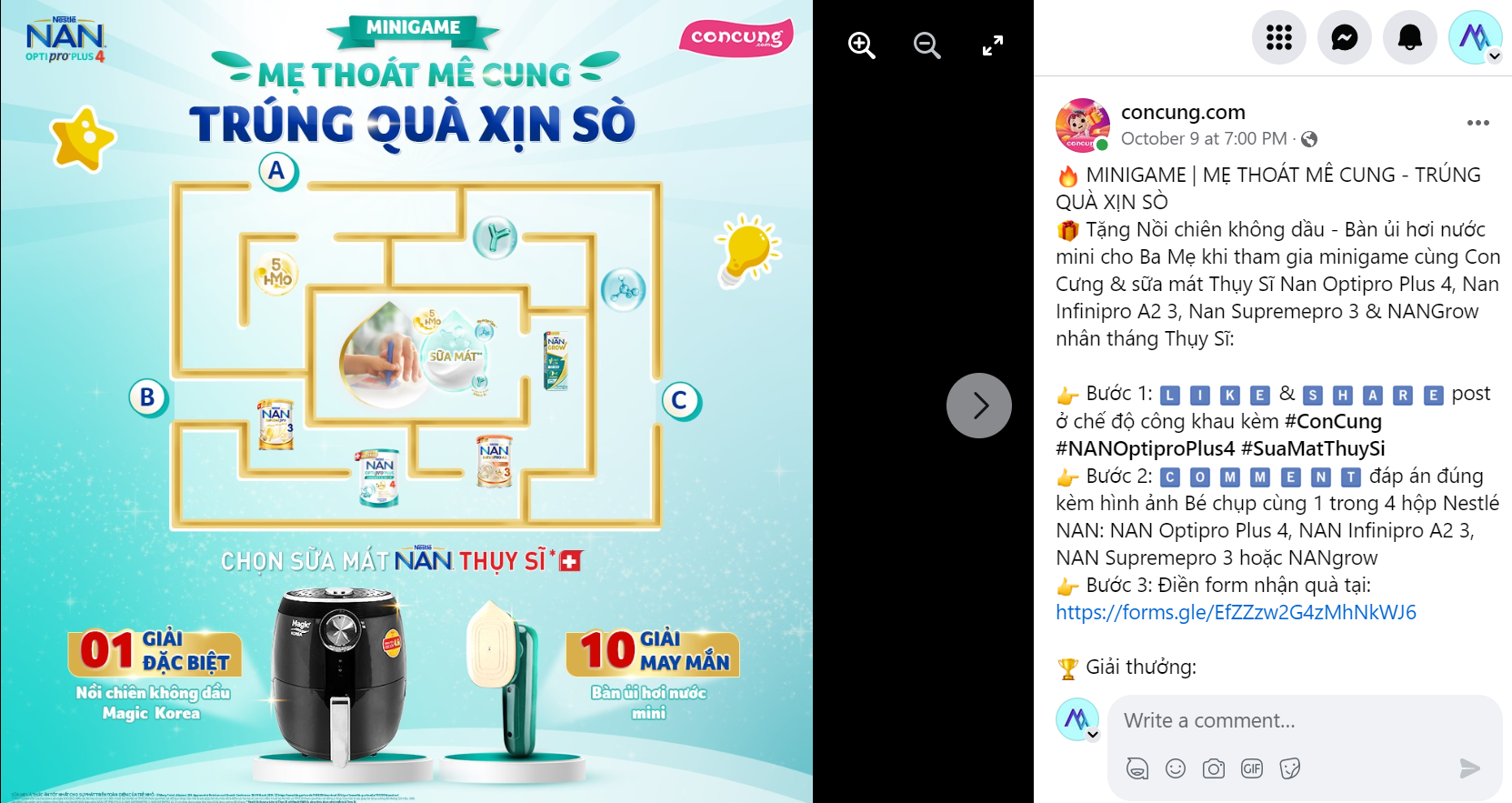 With just one mini-game post deployed on the Facebook platform, concung.com successfully collected information from target customers by requesting it in the event of winning a prize. 
This enables agencies or brands to gather customer information and use these data to customize and personalize their approach to provide content tailored to their customer base. Thanks to this, using mini-games not only attracts participation but also creates a golden opportunity to effectively reach the target customer group.
Increasing brand awareness
By designing a mini-game that is closely tied to the brand's product, customers have the opportunity to experience and gain a deeper understanding of that brand. This is extremely important for building trust and promoting brand recognition.
When participating in mini-games, players often share their results, compete together, and discuss their experiences. This spreads the culture and values that the brand represents.
Integrating mini-games into the marketing strategy not only creates a positive and engaging interactive environment but also helps increase potential customer base. Through sharing experiences with friends and family, mini-games become a means of spreading through social networks, providing highly effective promotion without incurring significant costs.
II. Top 6 Mini Games for Successful Marketing Campaigns
Collecting Items game
This is the most commonly considered type of game when brands need a mini-game for marketing. In this type of game, players participate in collecting required items, which can be mascots, brand logos, combined with features for adding or subtracting points, etc.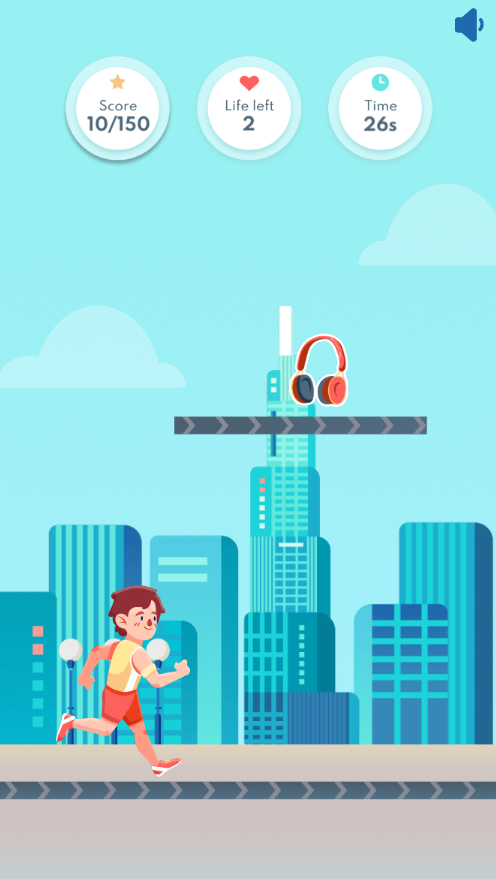 With these item-collection mini-game templates, brands can seamlessly incorporate this game into their marketing campaigns or brand events.
Play the template mini-game to collect items can be done here: https://game.marvyco.com/inhouse/mini_game/forwardyourgoals/.
Quiz game
Next is the puzzle game. This mini-game requires players to think logically, find solutions to various puzzles and challenges. By solving these intricate puzzles, players have the opportunity to progress to new levels and experience diverse challenges.
With this type of game, brands can apply it to short or long-term marketing plans with the aim of educating consumers about the brand or product.
Give the puzzle mini-game template a try here: https://game.marvyco.com/inhouse/mini_game/howwellyouknowaboutbrand2/
Puzzle game
The puzzle game focuses on players assembling pieces in the correct positions to form a complete image. The puzzle mini-game is suitable for marketing activities aiming to captivate users' attention towards the image of the product or brand. Furthermore, integrating the brand's images into the game stimulates the player's observation and imagination, while highlighting the message and imagery of the brand.
Custom Design Game
For marketing campaigns with specific objectives or targeting diverse customer segments, a custom-designed mini-game is a perfect choice. These custom-designed games are created based on the brand's characteristics and goals. It's an opportunity to showcase the brand's creativity and personality in a unique way, thereby stimulating the interest and positive interaction of the target audience.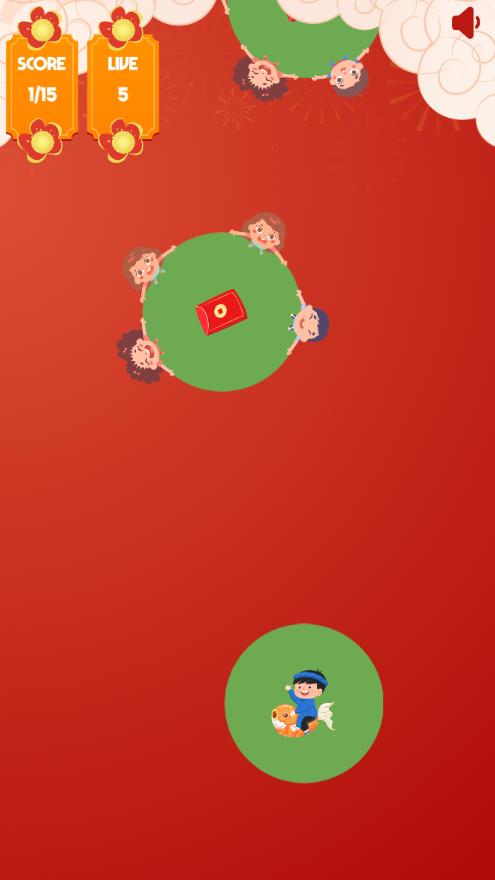 Custom-designed mini-games can incorporate brand elements or product messages seamlessly
Designing a custom mini-game for a brand requires a specialized team to understand the brand's requirements as well as consumer psychology. Beyond generating ideas for a mini-game that aligns with the campaign's objectives, a professional game production unit can assist the brand with design, programming, consultation, and post-game completion support to ensure customer satisfaction with the brand-specific game.
Design your custom mini-game template for your brand here:  https://game.marvyco.com/inhouse/mini_game/collectluckymoney/
Lucky Spin
A Lucky Spin mini-game introduces an appealing element of chance for players. By incorporating products, offers, or gifts into the spinning wheel, brands can generate excitement and a great deal of interest, encouraging players to participate and learn more about the products or services.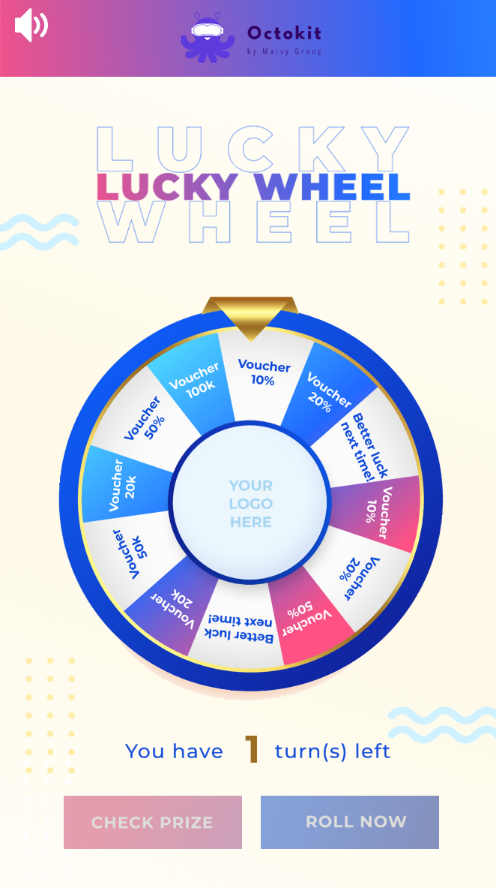 Experience the Lucky Spin and adjust the winning odds here: https://game.marvyco.com/inhouse/mini_game/luckywheel/
Arrange Items
Certainly, everyone has heard of the game Candy Crush Saga – a game that once caused a sensation across all platforms with numerous levels and vibrant rewards. In this type of mini-game, players get to stack similar items into rows or groups, creating an addictive experience to keep players engaged.
This game mechanism provides an opportunity to introduce products or services while creating a competitive environment that offers benefits and attractive rewards for participants.
Try out the mini-game with a similar mechanism: https://game.marvyco.com/inhouse/mini_game/slimeeater/
III. Conclusion
It can be said that mini-games are an essential part of modern marketing strategies, enhancing interaction and creating unique experiences for customers. This not only leaves a strong impression but also encourages active participation, thereby increasing the opportunity to reach and convert them into actual customers. Explore the world of mini-games and leverage them in your marketing strategy today!